Description
Konica Minolta Bizhub C250i
Workplace simplification
The User Interface has been totally redesigned, with an operating panel screen that mimics the functionality of a smart device.
The operation has been streamlined by limiting the number of functions and screen transitions to those that are used regularly.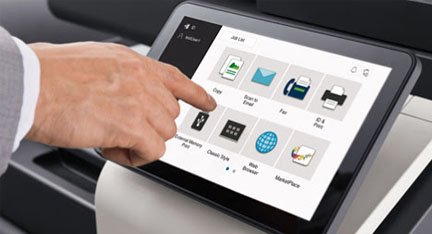 New operating panel design that is simple to use.
A new simple GUI (Graphical User Interface) design has been added to the operating panel.
No hard keys and panel vibration feedback are common smart device features that make it simple to use a variety of IT services.
The focus on frequently-used functions has resulted in fewer functions and screen transitions, resulting in greater operational simplicity.
Switchable GUI operating panel with two panel styles to choose from
The user can choose between two panel types depending on their needs: the modern GUI Basic Style, which is characterized by simple operation, and the traditional Classic Style, which features advanced settings and functionality.
The huge 10.1-inch touch panel is user-friendly.
From the customer's point of view, the 10.1-inch panel is brand new. It improves legibility and simplicity of use,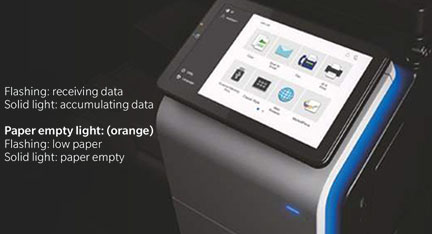 resulting in increased productivity. The multitouch capability makes it possible to operate the device in a tablet-like manner.
The vibration of the panel aids in operation.
Touching the panel generates vibration feedback, which helps visually challenged individuals operate the panel.
Operation panel with adjustable tilt
To accommodate individual users, the operating panel can be adjusted to a maximum of 90 degrees.

When tilting backwards, the movement is firmer to accommodate touch panel use, but when tilting forward, it can be effortlessly adjusted with light pressure.
Lights on the indicator
The new LED lights in the bizhub C360i series blend in nicely with the working environment.
The LEDs are on the MFP's front panel.
The data light indicates that data is being received or accumulated, while the print light reminds users to collect the document from the output tray.
SSD with encryption
For enhanced security, the bizhub C360i series features a new 256GB encrypted SSD.
With few device compatibility issues and full-time encryption, this provides a high level of security with minimal effort.
Printing with security
The document is stored on the unit's SSD until the same password is entered into the unit's operating panel by setting a password for documents on the printer driver screen. Until the password set for that document is matched, the document is protected and will not be output.
This is useful when you need to print a critical document or give limited users permission to get copies.
User authentication comes in a variety of forms.
Optimal authentication solutions can be tailored to fit the size of the office and current systems.
Single sign-on (SSO) is also supported by the bizhub C360i series, which improves operability without compromising security.
Authentication of the main unit
Authentication can be completed solely through the bizhub. You can also specify comprehensive usage restrictions for functions like copy, print, scan, and fax *.
Authentication via biometrics
Finger veins can provide extremely accurate authentication. It's simple and allows for the creation of high-security systems.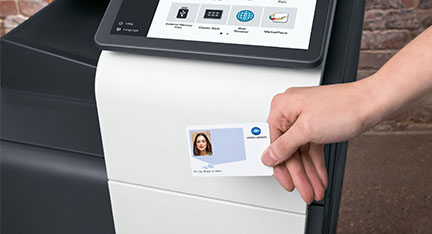 IC card authentication without interaction
Users can be authenticated using non-contact IC cards*1 like FeliCa.
This also complies with the SSFC (Shared Security Formats Cooperation) guidelines, which allow staff authentication to be integrated with authentication systems.
Virus detection
The bizhub C360i series comes with powerful antivirus software based on an internal BitDefender scan engine to enable secure cloud connectivity to the MFP and to devices such as PCs, tablets, and USB flash drives.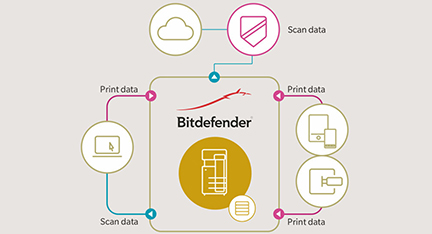 Individual file scanning allows for considerably finer malware detection than the whitelist method alone.
When files are input, latent infections in the office are found through checking and alerting.
In addition, checking when files are produced from the MFP limits the spread of contaminated files.
Further periodic file checking in the MFP identifies dangerous files and reveals hidden threats.
For print, scan, and fax functions, real-time virus scan jobs are available, while manual or scheduled virus checks for Box and SSD folders, such as SMB folders, are also available.
Operation of the browser
The bizhub C360i series includes a web browser.
Websites can be viewed and printed from the control panel.
Only the required elements of PDF files downloaded from the internet can be printed.
This is highly useful because it allows for quick printing of maps from the web, such as destination maps.
Guide that is animated
The interactive tutorial walks you through operations like clearing paper jams and restocking consumables.
Smooth operation is ensured by following the instructions given on the operation panel.
Quad-core CPU with high performance
Overall system performance is improved by a high-performance Cortex A72 CPU Quad Core 1.6 GHz CPU.
The additional CPU cores enable effective simultaneous processing of applications and seamless cloud application operation, even when performing fundamental MFP activities like copying and printing.
Warm-up time is cut in half.
From powering up to printing, the warm-up time is kept to a minimum of 13 seconds.
From the time the copy button is pressed until the first copy is printed, the first copy out time is 6.1 seconds or less.
The time it takes to reset the panel has also been considerably reduced, to roughly 1.2 seconds.
Print / Copies
For color MFPs, further functions are available.
Both the Copy and Print functions behave quite well.
A variety of paper feed solutions are available.
The regular main unit tray and multi manual feed have a paper stack capacity of 1,150 sheets.
A maximum of 3,650 sheets can be stored in optional paper stack cabinets.
With the addition of a big capacity paper stack unit, a maximum volume of 6,650 sheets * can be achieved.
Reducing the number of times the paper tray needs to be refilled reduces downtime.
Finisher with multiple functions
Users can choose from four different sorts of finishes that the versatile finisher will automatically process, including booklet creation, tri-folding, stapling, and hole-punching, depending on their goals.
This function enables for the manufacture of a range of outputs and finishes in-house, in addition to high-speed output.
Trays for paper and manual feeding
The first level and second level (standard) paper trays of the bizhub C360i series can both accommodate irregular-sized paper, allowing for a larger range of paper to be set up.
Enhanced resolution of 1,200 dpi
The bizhub C360i series has a print resolution of 1,200 dpi and excels at reproducing small font sizes and delicate lines.
This level of accuracy improves document legibility and results in stunning, high-quality printouts.
Printing function for banners
Banner printing up to 1,200 mm is possible with the optional Banner Paper Guide.
This is perfect for making POP and banners.
USB port (standard)
A USB port, placed on the side of the main unit's operation panel, is included as standard equipment.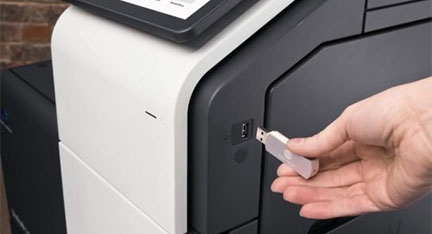 After adding a USB flash drive, the touch screen displays printing processes, and the data on the flash drive can be directly printed or stored to a box in the unit in a few simple steps.
Depending on the type of USB flash drive, it may or may not work properly.
 PDF, compact PDF, JPEG, TIFF, XPS, compact XPS, and OOXML (.docx/.xlsx/.pptx) are supported file types.
 The printed image may differ from the image on the computer screen. RX print by email, Attaching files to an email and sending it to the machine's email address is a simple way to print them out.
PDF, Compact PDF, JPEG, TIFF, XPS, Compact XPS, and OOXML (.docx/.xlsx/.pptx) are supported file types.
i-Option LK-110 v2 is required.
Scan
From speed, quality, and distribution to storage, the Scan functions give great performance and functionality.
Outstanding scan results
Automatic duplex scanning using an Automatic Document Feeder (ADF) offers a scanning speed of 200 pages per minute (100 double-sided sheets per minute).
At any given time, up to 100 sheets * can be set, considerably decreasing scanning time and effort.
Automatic skew correction, which corrects the angle of the scanned original, has been substantially enhanced, resulting in highly accurate scanning with reduced skew.
When the Automatic Document Feeder DF-714 option is used.
Paper weight: 80 gsm
Sensor that detects two feeds
Ultrasonic waves are used to identify double feeds and distinguish a layer of air between each page.
When a double feed is identified, a preview of the previously scanned original is provided, allowing the task to be restarted without having to start the scanning process from the beginning.
Measures the size of the paper
This function measures irregularly sized paper placed on the platen glass automatically.
The bizhub's memory may also save the size of the measured paper.
It can be used in offices that deal with a variety of paper sizes, such as slips and vouchers.
Function to scan to a URL
With a Scan to URL function, the user can save scan data in the bizhub and then receive the storage destination URL through email.
This makes it simple to send big amounts of data that can't be attached to emails.